Online dating is a big interest for many internet users and also is a large business industry. As such it also has a high potential for dating scam. Predators hunt where the prey is and the bigger the place, the better the potential for fraud to become a success. Looking for a partner online is not any different than any other search – search for a house, a second-hand car, a new mobile phone or any other similarities. In one simple yet important detail they have a common point: there always will be some people who will try to take your wallet on a date, not you.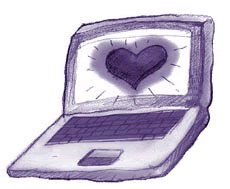 Many people who are aware of the potential dating scam online, the first thing they have in mind is Russia. While it is true that many dating scams have the origin in this country or neighbor countries, it is not the Russians who invented dating scam, further only about 5% of all online dating services/persons are predators. As you see chances for you becoming prey of the real scammers are less than one in ten. Your common sense should stay alert and prevent you going to the wrong neighborhood and in addition to that we will discuss and reveal some of the tricks women or men are using to acquire their targets. Most of the con artists in online dating are female or pretend to be one, so we will reference the scammer as a "she", but indeed you may replace it with a "he". Be aware of the fact that there are some individuals out there who may try to extract from you some amount in cash playing on your feelings, but you must not become paranoid about it!
Marriage fraud is not an invention of the internet, nor is it new to this world. It is as old as mankind is. What Internet has brought new is the possibility of using typing to express feelings that requires much less actor skills than face-to-face communication. Paper can bear anything. Even a phone conversation can give you more clues of what's really going on, but many times a direct conversation is avoided for rather obvious reasons. It's either because the person on the other side is a scammer with poor talent and conversation skills, or a potential legit date who is shy. Unless you want a shy woman or conservative one, which in turn will most likely become a pain in the arse, you should avoid both. We now will have to look for some clues inside the text:
The contact originates from a free personals site where anyone can place her ad for free
It was not you who initiated the conversation; you received a letter from a lovely female who was interested in you. Her description of the partner is always very broad that will fit anybody – "kind and intelligent man, age and race don't matter"
Correspondence is always through email and letters are sent regularly sometimes even periodically and often, every day.A new picture is sent with almost every letter and the pictures are often numbered in sequences like (1, 2, 3…)
She never asks about your job, possessions or the state of your finances, neither uses the word "financially secure" in her description of the prospective partner. We all know a girl wants to be financially secure and this question is an important one she would ask you if she was honest
In her letters she talks a lot about trust, honesty and sincerity
She does not answer your particular questions though she eagerly states she welcomes your curiosity. Any kind of secrecy should be avoided
Her financial situation is very bad and she lets you know from the very beginning how little she earns, including the size of her salary even though you never asked about it. She pretends be a student
She doesn't remember what you have written. Actually, she may even not relate to the content of your letters at all, because she is too busy responding to other potential victims. The emails she writes are pre-written and sent to multiple recipients, with only few words changed along with your name
Scammers are not eager to give away their contact details. Having a postal address and phone number in addition to the email address is very important. Be sure to check them out if they are correct.
A VARIATION OF THE PROCESS
With methods described above the con artist will try to establish a thrust bond between you. Initial contact between victim and scam artist is to take the step in starting a relationship. Somewhere along in your conversation she explains that she currently is away in another country and that will not be returning to the States for another two weeks. As you dig and get to know the girl you find out more information about this hot girl. Her parents died in a tragic accident and she has no family or friends who can help her stateside and during the trip she was abandoned by her previous boyfriend in said country with no money to get home. Your next decisions will have impact on your future, with outcome almost the same. If you send the money, the contact will disappear, along with your money. If you don't send money, the contact will be broken, but your finances will be left unharmed.
SUMMARY
There are a number of variations on the same basic scam. Usually the trick is to tell you a sad story on why she needs money. In some cases the scammers may be the one to create a profile on a dating site and wait for a potential victim to contact them. Typically, the profile will include a photograph of a very attractive young woman who will have no trouble attracting would-be suitors. Con artists may also strike up a conversation with a potential victim via an internet chat room or instant messenger like msn or skype. If you begin corresponding with a person with a view to a possible romantic relationship, remain cautious even if the relationship seems to be progressing very well. These scammers are very skilled at building trust and know how to make vulnerable victims fall in love with them. Regardless of the strength of your feelings towards a correspondent, you should view any requests for money as highly suspicious.
Avoiding being scammed is, in fact very easy. Don't send money. If you suspect a scam or would like to report one, you may visit websites like:
Scammers use similar patterns or even same names and other personal information again and again. Therefore, you may even be able to expose a scam by conducting Internet searches through google on the names used by the scammers or key phrases from their emails.