You probably haven't heard or even are not aware of moving company scams. Nevertheless the moving industry seems to be much more scam-ridden than many other industries. Before we begin I just want to point out that is recommended moving yourself if possible, or using a you-pack/we-drive service. Although sometimes circumstances don't allow that so we will discuss some tips on avoiding moving company scams and how to find one you can trust. But first lets take a look what moving scam is and how it works.
Most moving companies are completely legit, however more than a few will try to trick you into paying a lot more money than you expected. Leaving normal transportation scratches aside, moving can become a big stress factor and pain if you run into a moving company scam. It starts with moving companies trying to beat each others low bid to move your possessions for you. Basic rules of competition that you would take advantage in most cases, but not in the moving industry. At least let the low bid not be your priority when choosing a moving company, because in the end you may get a double or triple than your estimated quote.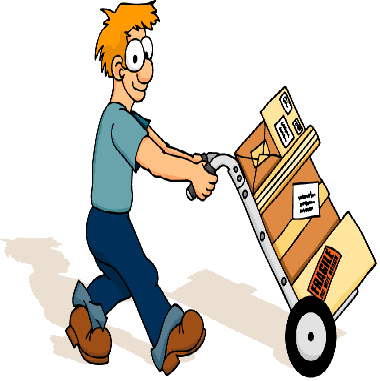 As mentioned before competition is usually a great thing for the customer, because of the lower prices the companies have to give in order to survive in the business. As the number of competitors was rising the prices for moving were falling, which meant that it became more difficult to make a profit. At this point some of them began holding your goods 'hostage' while they demanded that you pay some extra fees that have occurred during transportation or any similar trumped up lie. There was a case of a company who has given an estimate of $2000 for the transportation. The contract was more or less blank. The contract which has been signed by the customer had lots of room to add additional information and fees to it after it was signed. The estimate then doubled, and because the customer protested, they still hadn't delivered her goods six weeks later.
As you see one important factor in moving is the estimate. Most consumers believe that only one estimate exists and that is the one who gives you an estimated price which can however be double of the amount or half of the amount. In fact there are actually three types of estimates that are common in the moving industry. You should be aware of all of them;
Binding Not-To-Be-Exceeded – This true estimate is the preferred and most favorable for the customer. A basic understanding of it means that even if your actual weight exceeds the original written estimate, you still pay for only the amount of the estimate. But if your actual weight is less than the estimate, then you pay less than the amount of the estimate. A binding-not-to-exceed estimate can only get lower, not higher. If you can you should definitely choose this option!
Fixed Price Agreement – If you sign this you agree to pay the fixed amount of the binding written estimate whatever the actual weight in the end is. Risk to the costumer is that the moving company could overprice the estimate to get extra money for pounds that don't exist. The risk for the moving business is that the costumer could sneak in items that were hidden and not included on the original estimate. However the risk to the company is almost does not exist, because the truck driver has the right to "challenge" the binding estimate on loading day, before actually loading, if he thinks that the estimate is too low.
Non-Binding Agreement – You agree to pay for the actual weight, not the estimate, based on a set price per pound. The final bill could be higher or lower than the original written estimate, depending on the actual weight.
GUIDELINES TO AVOID MOVING COMPANY SCAMS
Most of the moving company scams can be found on the web. They have a convenient few clicks method of getting the estimated price on their web site and with their low bids lock you up. Many of these web site moving companies don't even have an office or claim to have one far far away. Choose your moving company locally. Choose one that you have personally seen the office of
Any true business of any value can rely on mouth to mouth promotion. When they do a good job, customers will recommend them to their friends or talk about them when inquired. So ask around for a moving company who left positive and pleasant experiences behind
Trust established businesses above newcomers! Try to find moving companies that have been in business at least ten years. When you find the moving company of your choice get as as much information about the company that you can. Get the full company name and any DBA names, their physical address, phone numbers (local and toll-free), government license numbers, company web site address and email. Do a search online to make sure the company isn't already a known scammer; go to the address of the company and check out their yard and their trucks. Obviously there are reputable firms online, but there is an unusual number of horror stories from customers who hired movers online. Last but not least, get references and call them. Ask for opinions and previous experiences with this particular moving company
Is the price estimate based on square feet or weight? If you are given a quote by square feet you should rather try another moving company. This alone is not proof that the mover giving you a quote won't be honest but it's definitely something to be cautions about. A lot of space can be left between your moving items when loading a truck. While a moving company who gives quotes by weight will try to squeeze as much as possible into one truck, the company charging for square feet may need two trucks for the same amount of items, leaving you with a bigger bill. You should definitely ask a prospective mover why they are quoting you in square footage rather than weight before anything is signed
Move yourself. Call some friends that will help you pack everything, rent a truck and load it with your possessions. If can't do it yourself because you have to little time or are to lazy, you can even hire a few workers that will pack and load a truck you have previously rented
In the united states there is a document called Your Rights and Responsibilities When You Move that every moving company must have. Ask for a copy of it and you will see while moving companies are legally obligated to give it you, scammers will not want you to have that information. In other countries probably a similar document exists. You can see a full online copy of Your Rights and Responsibilities When You Move here
The most drastic solution would be to sell everything and start again. This may sound extreme to many, but some can give up their possessions easily, especially if they don't have many.