Pyramid Schemes exist online as well as offline. They come in various and creative forms and vary from loans, pharmacy and cosmetic products to insurance policies. Actually the variations are endless, but the general idea is to make you invest and then pursue other investors. This is in your interest, since for everyone you recruited you get a percentage of his investment and for everyone your new recruiter referred you also (can) get percentage. That means the higher in the scheme you are and the more investors you referrer, more money you make, but the higher amounts are cashed in only by those few on the top, while you and the other investors do all the work. Not a question of if, but when, the scheme collapses because it has run out of new investors. Or the fraudster closed his "shop". Almost all participants never earn a profit, while many suffer huge financial loss. Only the top of the scheme makes money, that is, in the loss of all the others.
The image below is representing pyramid scheme owner as the all seeing eye in the top and sheeps as investors.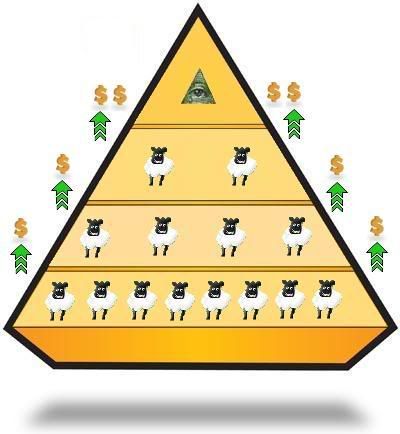 Pyramid schemes are deceptive practices which promote themselves as legitimate businesses. Taking money from thousands or even millions, they only enrich a small group of people who started the scam. Often also denying the fact they operate as a pyramid scheme with a masquerade, fraudsters claim to create new opportunities and uplift people. Results can be devastating with huge financial losses taken from people who fell prey to the scam with trickery, psychological manipulation or law loopholes. Always check the company background if investing huge amounts of money, don't thrust the nice sales person nor be excited on large potential return on investment. Usually, it only exists in your imagination, not in your wallet.