Have you been scammed recently? If yes, better inform yourself before it happens all over again. Some con artists will try to squeeze every penny out of you even after you may not have any money left. You may receive an email from a con artist who will promise you to provide assistance in getting your money back. After all you've went through being recently scammed, this feels like a gift from the heavens to you. What happens is that you will be charged with hefty transfer, legal, income tax and whatever fees. Needless to say these "fees" are imaginary and the money you have been sending went straight into the con artists pockets. These professional scammers may have illegal ID's as being registered lenders, government official or any other kind of identification.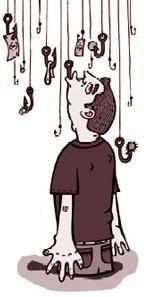 EXAMPLE EMAIL
African Union Headquarters
P.O. Box 3243
Addis Ababa
Ethiopia
Attention: Beneficiary

We have the utmost pleasure in sending you this message regarding to our meeting at the 53 Heads of State and Government of the African Union at their summit meeting on 31 January to 2 February in Addis Ababa. At the meeting where Mr. Jean Ping, the Gabonese Minister for Foreign Affairs, was appointed as the Chairman of the African Union (AU) focused was on scammed victim in the globe, foreign contractors that may not have received their contract sum as well as Inheritance, including people that have an unfinished and failed transaction due to government bureaucracy etc. The African union in a drive to restore and protect its image globally has resolved to compensate each person with sum of US$250,000.00.

Be notified that we found your contact in our list and that is why we are contacting you as this has been agreed upon and has been signed. You are advised to contact Mr. George Ikoli our West Africa Regional Representative in Nigeria. Contact him immediately for your ATM cash card of US$250,000.00 (Two Hundred and Fifty Thousand United States Dollars). This fund is in ATM for security purpose. Therefore, you should contact Mr. George Ikoli immediately for further directives on how to receive your ATM on this email address.

Email: [email protected] Tel: 234- 80 58 98 83 42.

Yours faithfully,
Philip Idamo Idamo
CONCLUSION
A centralized database of Nigerian scam victims, such as the ones mentioned above, does not exist. Anytime you get an email like that, you should always assume it to be a scam, and delete the message. If you haven't contacted the person from this email address before, don't even talk to them at all. They haven't received your email address from a database of scam victims but they have either found your email address or bought it from a website you have signed up at one time.